Returning to a safe classroom during COVID-19 – Campus reopening procedures for students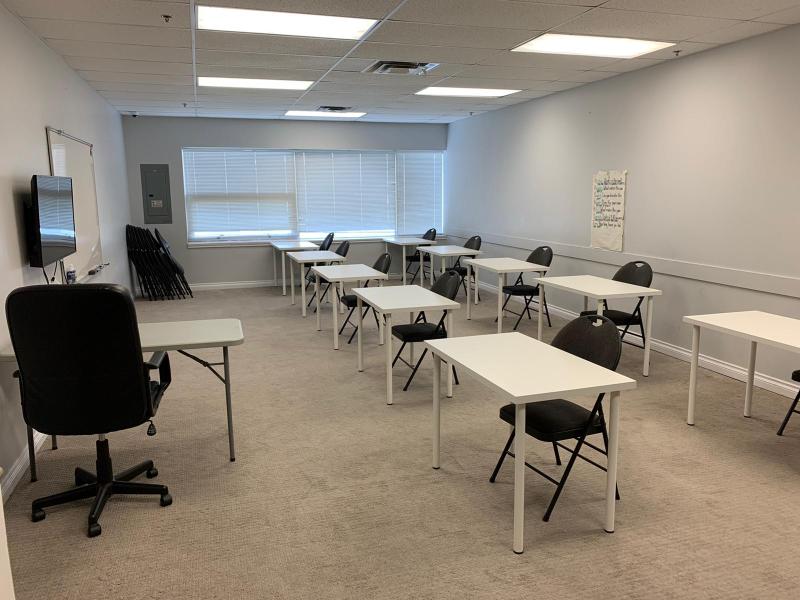 (Photo: Classroom set up to provide social distancing)
Dear ProSafe students,
We thank you for registering with ProSafe First Aid Training School and for your patience while we come up with solutions to keep you and our staff safe. Please note that due to practical components in many of our courses it is not always possible to maintain 6 feet of distance from another person or instructor. In order to restart our face-to-face first aid training, we have implemented the following policies and procedures.
We ask you to do the following:
If you have travelled outside of Canada in the previous 14 days, you are required to self-isolate for 14 days prior to attending classes.
If you have come in contact with someone who has tested positive for COVID-19 within the last 14 days or is exhibiting any flu like symptoms, including sore throat, cough or fever do not attend the course and contact us at 604-585-7233 as soon as possible. You will be able to reschedule your course at no additional fee.
If you are at greater risk (older than 60, immunocompromised, have underlying chronic medical conditions) get informed about risk, assess your own risk tolerance, think through and apply extra precautions and heightened vigilance if you decide to attend this course.
If you have a personal mask or face covering, we ask that you bring it to your class.
ProSafe will ensure the following:
Protective non-medical grade masks or face coverings are required to be worn by all students and instructors when physical distancing cannot be maintained.
ProSafe will provide masks to students who do not have their own.
Students will be provided gloves for all practical sessions when direct student to student contact is required.
All students will be provided with their own equipment such as manikins and AED's for courses that that require them. Students will wipe them down with sanitizer provided by ProSafe prior to returning them after use.
Class sizes are limited to numbers that allow for proper social distancing.
Each classroom is equipped with a hand sanitizing station.
Good hygiene is encouraged by frequently washing your hands and covering your cough/sneeze, wearing a non-medical mask or other face covering.
Students will wash or sanitize their hands before entering the classroom, after removing gloves, and after touching their face or mask, and as directed by the instructor.
If there are multiple classes being conducted in the same campus, instructors will coordinate to ensure breaks do not overlap.
Instructors and staff will be monitored regularly and are required stay home if exhibiting any flu like symptoms such as sore throat, cough, or fever.
If students are exhibiting flu like symptoms such as sore throat, cough, or fever they will be
asked to leave the course and reschedule for at least 14 days into the future.
Cleaning and Sanitization
Tables, chairs, equipment and contact surfaces will be sanitized each night after class by ProSafe staff.
Students are encouraged to bring their own pen or pencil for use during their class. Otherwise, pencils will be provided to each student for their personal use during class and will be left on the table when done. These will be sanitized each night after class by ProSafe staff.
ProSafe would like to thank you for your understanding and cooperation during these times. The health and safety of everyone is of utmost importance to us.
The ProSafe Team