Heavy Equipment, Heavy Responsibility: Preventing the Spread of Covid-19 for Forklift Operators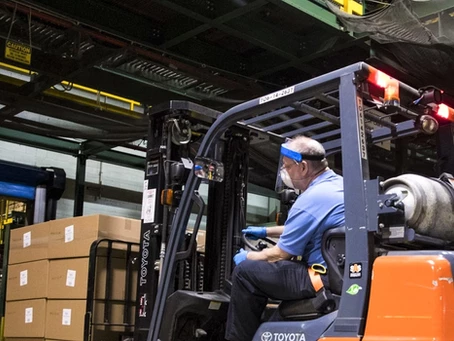 Strict guidelines, shuttered doors, and socially distanced service – at this stage, we are all familiar with Covid-19's impact on industries that employ front-line workers. As the pandemic unpredictably lurches along, it can be easy to forget that there are many workers outside of the public eye that must also learn to adapt to new rules. Today, we are going to focus on the individuals that form the pillars of many industries – forklift operators.
ProSafe First Aid has been in the business of certifying forklift professionals for many years, and our team has been employing extra measures to ensure that they remain safe and well-informed during these unprecedented times. Just like the service industry, the CDC (Center For Disease Control) has provided employers and operators with a number of steps to fight the pandemic. Here is what you need to know:
Stay Well-Equipped and Well Trained
In order to comply with sanitation protocols, it is vital that all work sites are equipped with sanitation supplies such as gloves, face protection, hand sanitizer, towels, and disinfectant. Employers are responsible for not only ensuring that these items are stocked, but that all staff members are well-versed in their location and how to use them. While WorkSafe BC is officially responsible for regulating and enforcing the new guidelines, all staff should be encouraged to collaborate and protect one another.
Know Your Lift
In addition to competently operating the lift trucks, operators should have a clear understanding of which areas of the vehicles they must sanitize between use. These include high-reaching handles, such as the grab handles used to enter the lift and the front overhead guard leg. Any areas that must be accessed in order to drive and control the lift, including seats, the steering wheel, gears, and any communication tools, must also be attended to. Finally, components that may be handled by mechanics or operators, like the propane tank and hoses, access covers, and the forks themselves, should be regularly cleaned in accordance with WorkSafe's standards.
Frequency Is Key
No matter the capacity in which a technician uses their forklift, it is essential that the machine is thoroughly sanitized afterwards. Understanding where to clean is one thing, but this knowledge is useless without frequent application. After using a forklift, the operator must wipe down all recommended areas while using fresh sets of Personal Protective Equipment (PPE). Best practice for employers is to equip all lift trucks with signs that display whether the vehicle has been sanitized or not. Once gloves and masks have been used once, workers should dispose of them in designated areas.
Maintain Your Equipment
Adapting to these sudden changes should in no way impact a company's ability to keep their forklifts well-maintained and running efficiently. Prior to hiring a repair or maintenance contractor, ensure that they too are utilizing Covid-19 precautions within their workflows. The high-spread rate of the virus means it is possible for your entire team to be impacted very quickly if third parties are not following protocol.
The pandemic has upturned many workplaces, and employers and staff alike must learn how to quickly adjust to this new normal. Forklift operators are key members of many organizations, and it is important that they follow job-specific procedures to stem the infection rate. As the saying goes, we are all in this together, and must cooperate to make the world a better place. Should you or your team have any questions about Covid-19 protocols, or need to learn more about our forklift programs, do not hesitate to reach out to the ProSafe team.